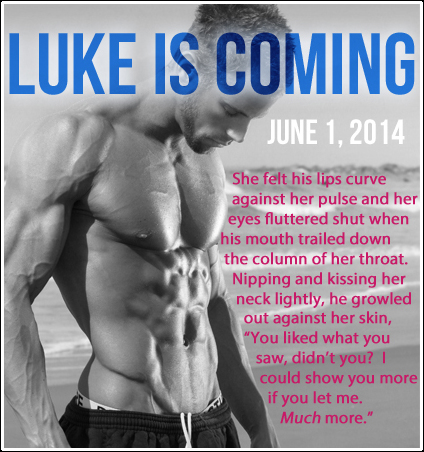 Woot, woot!  I have the first teaser for Electric, which is the first full-length novel of The Bay Boys Series.  Electric features Luke, who you may remember as Alex's best friend from The Rebound Series.  Here's the blurb:
The ultimate playboy meets the one woman who brings him to his knees.

When prim and efficient Kate Kennedy is assigned a temp job at Branford Construction, she feels like things are finally starting to turn around for her. Faced with debt, Kate knows that every little bit counts towards the care costs for her grandmother, the one person she has left in the world. But what she didn't count on was her new boss, Mr. Branford, the panty-dropping, shameless flirt who steals kisses from her in his office late at night.

Luke Branford is a notorious womanizer and the sole heir to his family's multi-million dollar business.  His motto?  No love, no relationships.  Just pure, carnal sex.  But when his new assistant intrigues him to the point of madness, he wants nothing more than to discover the passionate woman carefully hidden behind her calm, yet icy, exterior.

But Luke has demons of his own and a tragedy that happened years ago continues to haunt him. Once Luke and Kate explore their mutual attraction, will they let past secrets keep them apart…or will they bind them closer together?